Alright, so everyone has heard of the juicing cleanse, and now the newest cleanse to hit the scene is Souping.  This new trend was started by a company called Soupure out of California.  The founders Angela Blatteis and Vivian Vella, two friends who came up with the idea while having lunch, wanted to develop a company that delivered nutrient rich hot and cold soups, tonics and waters, and soup cleanses that were both delicious and satisfying and most importantly, made from organic, fiber and protein rich ingredients.  "Cooking soup allows your body to absorb more plant based nutrient power than juices," says co-founder Angela Blatteis.  Soupure does not use dairy, GMOs or preservatives, their soups are 100 percent good for you, whole food based.  Currently, the company only delivers in California, but don't worry shipping is coming soon!  For those who want to get a head start on this new fad, I've included a few soup recipes that I would consider comparable to some of the Soupure recipes.  It may take some time to make these homemade soups, but if you make them in the beginning of the week, you can keep them in the fridge and alternate them each day.
Roasted Butternut Squash Soup
4 cups (1 inch) peeled and cubed butternut squash (about 1 1/2 lbs)
1 tablespoon olive oil
1/4 teaspoon kosher or sea salt
4 large shallots, peeled and halved
1 (1/2 inch) piece peeled fresh ginger (thinly sliced)
2 1/2 cups low sodium chicken or vegetable broth ( I use organic)
2 tablespoons (1 inch) fresh chives
cracked black pepper
Preheat oven to 375 degrees
Combine first 5 ingredients in a sheet pan and toss well.  Bake for 50 minutes or until tender, stirring occasionally.  Cool 10 minutes.
Place half of squash mixture and half of the broth in a blender.  Place a towel over opening of blender to prevent splatters.  Blend until smooth.  Pour into large saucepan.  Repeat with remaining squash and broth.  Cook over medium heat for 5 minutes or until thoroughly heated.  Top with chives and pepper.
Kale and White Bean Soup
 1 lb dried white beans such as Great Northern, cannelini, or navy
2 onions
2 tablespoons of olive oil
4 garlic cloves, finely chopped
5 cups of low sodium chicken broth
2 qt of water
2 teaspoons of salt
1 bay leaf
1/2 teaspoon black pepper
1 teaspoon finely chopped rosemary
8 carrots, halved lengthwise and cut into 1/2 inch pieces
1 lb of kale, stems and center ribs discarded and leaves coarsely chopped
Cover beans with water by 2 inches in a pot and bring to a boil.  Remove from heat and let stand, uncovered, 1 hour.  Drain beans in a colander and rinse.
Cook onions in oil, in a dutch oven over moderately low heat, stirring occasionally, until softened (4-5 min).  Add garlic and cook, stirring, 1 minute.  Add beans, broth, salt, 1 qt of water, pepper, bay leaf, and rosemary and simmer, uncovered until beans are just tender, about 50 minutes.
Stir carrots into soup and simmer 5 minutes.  Stir in kale and remaining qt of water and simmer, uncovered until kale is tender, (12-15 min).  Season soup with salt and pepper.
I left out the parmesan cheese to keep it non-dairy, but feel free to added some shredded parm on top if that's what your taste buds crave.
Strawberry Cashew Soup
Recipe from cookforgood
1/3 cup raw cashews
1/4 cup water
1 lb strawberries
1 1/2 teaspoon honey
pinch of salt
Put cashews and water in a food processor fitted with a steel blade.  Pulse eight to ten times until cashew pieces are about the size of coarse grains of sand.  Let cashews soak at room temp for an hour.
After the cashews have soaked, process them again until the mixture looks like heavy cream, about 30 seconds.  Add strawberries, honey, and salt to food processor and process until smooth.  Refrigerate until cold, about an hour.  Add more honey or salt if needed.  Soup keeps refrigerated for about four days.
Chilled Cucumber Avocado Soup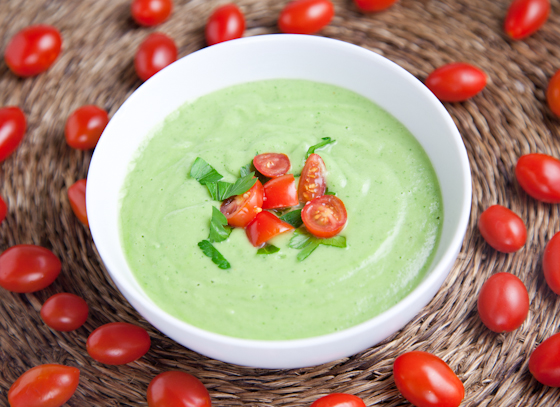 Get the recipe picklesnhoney
A Little Note:
If you're looking to add more protein or fiber to these soups or any other soup, try adding one of these: sunflower seeds, lentils, quinoa, chia seeds, flax seeds.  They also make flax seed crackers, which would be a great replacement for croutons!!
Check out the Soupure website, it really is a fabulous concept and definitely worth a try.  I think I might try their cleansing program once they start shipping to Chicago, it has definitely peaked my interest and I love to try new and healthy things.
What are your thoughts on souping?  Is this something you would be interested in trying?  I'd love to hear from you!!