Move over man caves, because the newest trend in personal living spaces are "she sheds"!  I always thought that it was totally unfair that men were allowed their own special space!  What about us ladies?  We need a spot to call our own as well!   Right now my only private space is my closet, funny, but so true!  So when I caught a news segment recently about these new spaces called "she sheds", I had to share with those of us who were completely unaware!  Turns out women have been designing these spaces for themselves for quite a while, why didn't someone tell me?
Well, I've put together some fabulous she sheds for you to adore!   Each one is totally unique and has its own personal style!  Maybe you'll get some inspirations for your "she shed", I sure got some for mine!!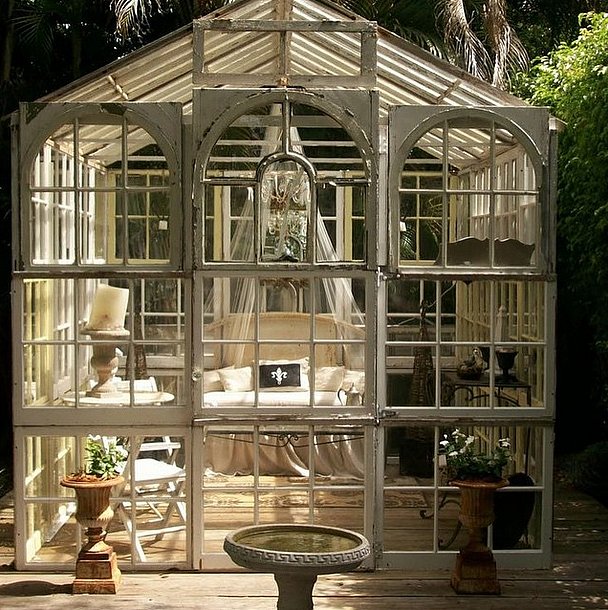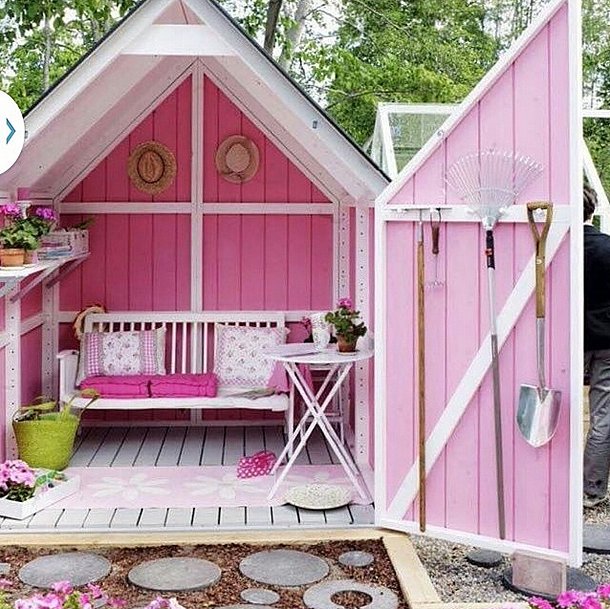 I know this is a stretch, but maybe my next project will be my very own "she shed"!  Just in case I get the thumbs up over here, I have begun designing my perfect space.  I've decided to start with an unfinished wood shed.  I love all of the windows on this one and the skylights are a plus!!  Isn't it so cute and it's quite spacious at 12′ x 12′!
I chose the unfinished wood for a reason, so I can customize it by painting it with one of the fabulous Annie Sloan colors!  I doubled checked to make sure Annie Sloan paint can be used outdoors and it can as long as you don't use the wax!
So many colors…which to choose?
Annie Sloan paint available at DiLucca Designs
Designing my She Shed
If I were to have a private place of my very own, it would have to be a very peaceful and relaxing retreat.  So I choose to design my shed with comfy furniture in a calming neutral palette!  I have to keep reminding myself that this is only a dream, I feel like I'm working on a real project here! Haha
Aren't these the cutest little rustic side tables!
Needed to include a console table for decorative accessories and possibly home to my wine glasses!
Of course the room wouldn't be complete with out some light!
Other important items for my shed include, my laptop for writing my blog posts (what a perfect spot for that), music, and of course a wine fridge.  Why walk back to the house for a bottle of wine when I can have my very own wine fridge stocked and ready to go!  I must be prepared for when my girls come over!
Right outside the front door of my serene little shed, I would love to have this cute little bistro set!  Perfect for a cup of coffee in the morning, or a nice cocktail in the evening!
I think this sign is appropriate to hang on my front door…don't you?
Now that I've shown you some awesome examples of she sheds and I've shared with you what I would love my she shed to look like, it's time for you to tell me what your perfect, private space would look like?
xo