Today is my birthday and I am here to share with you all of the fun birthday freebies and discounts that are available out there!  My coupons and discounts started rolling in a couple of weeks ago, arriving both by mail and email.  So how did I get all of these perks you ask?  Well, you'll notice when you sign up for different rewards and memberships through different retailers and restaurants, a majority of the time, they ask for your birthday!  This is why!
Now I know that a majority of the discounts are to get you to spend more money at a particular store or establishment, but if you were planning on buying something anyway, it sure is nice to have a coupon to do so.  The J Crew and DSW coupons were only the beginning of my birthday bonanza!  For being a rewards member at Sephora this is the gift for the month of June!
How awesome is that!?!  Love me some freebies!!
Other birthday perks for me!
15% off to Anthropologie
10% off the World Market
Free ice cream at Baskin Robbins
Free drink or food and 15% off at Starbucks store
Free frozen yogurt at TCBY
Free car wash (hope it doesn't rain)
Waiting for my free gift from Ulta (I'll let you know if they send anything)
Free sandwich at Honey Baked Ham (lol)
So the point of this post is to let you know there are tons of freebies and discounts when it's your bday!  Most of them are for food, but my favorites, are the fashion and beauty retailers discounts and gifts!  I'm hoping that by the end of today, I will have more emails with fun birthday perks for me!  If you would like to get your freebies and discounts, all you have to do is sign up for rewards and membership programs and you'll be swimming in coupons and free stuff too!  Only problem is, you will also be swamped with tons of marketing emails!  The emails really don't bother me though, I sign up for everything!  Now I'm just gonna sit back and watch my birthday perks come in!
Had to include some fabulous and fashionable birthday cakes and cupcakes!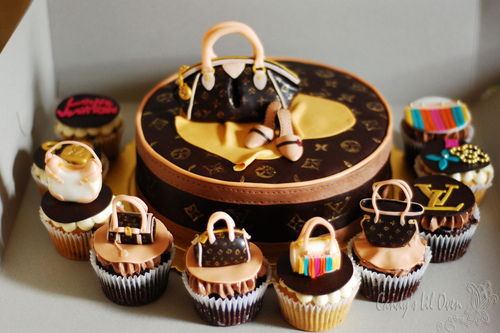 How cute is this Karl Lagerfeld cupcake!
Happy Saturday!
xo